DSPA-5 makes all the difference
Updated: 28 july 2014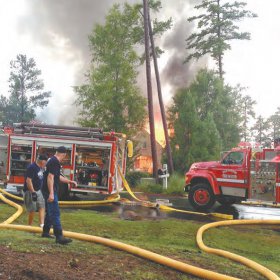 Source: Lake Ocomee News, Friday, July 18, 2014
Lightning causes four fires
Fire destroyed a three-story home in Greene County's Reynolds Plantation and left another home nearby heavily damaged and uninhabitable July 10. Two other homes in the county also were damaged by what local authorities believe were the result of multiple lightening strikes caused from a severe thunderstorm.
( … )
Black smoke could be seen for several miles in various directions due to the fires. Local firefighters with the Walker Church Volunteer Fire Department fought the blaze at the Stewart home, Fire Chief Byron Lombard said. "I could see the fire all in the attic," said Lombard, who also serves as county manager and is director of the county's emergency management agency. "There was thick black smoke coming out everywhere."
Lombard, who had a DSPA-5 special fire extinguisher in his emergency pickup truck for several years, decided to use it for the first time. He said he tossed it inside the attic in hopes that the chemical agent inside the cylinder would do its job and smother the fire. The idea worked and bought what Lombard described as time for fellow firefighters to arrive and help extinguish hot spots and vent the rooftop of the home.
"That fire extinguisher made all the difference in the world," Lombard said. "I'd recommend it to all residential homeowners." Lombard went inside the home and retrieved Stewart's purse, her notebook
computer, and some other items. He also moved her late husband's Ford F-150 pickup from the area so that it wouldn't get damaged by the fire or be in the way of firefighters doing their jobs. "We didn't want her to lose anything more than she had to," Lombard said.




Return to news page